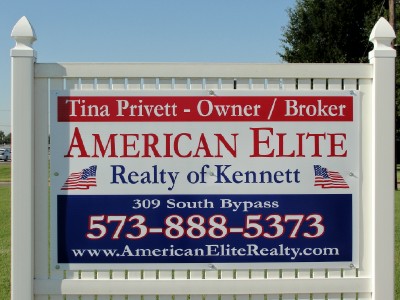 American Elite Realty
309 South Bypass
Kennett, MO 63857

Phone: 573-888-5373

Cell: 573-717-6328

Fax: 573-888-0506
American Elite Realty - Kennett
Real Estate Property and Houses in Southeast Missouri and Northeast Arkansas
American Elite Realty of Kennett is a premeire real estate company in southeast missouri, offering both buyer and seller representation. We offer real estate for sale in Southeast Missouri counties: Dunklin, Pemiscot, Butler and New Madrid.
This includes homes for sale in Kennett, Senath, Hornersville, Campbell, Malden, Bragg City, Deering, Hayti, Caruthersville and more. We're also licensed in the State of Arkansas and have properties for sale in Piggott, Corning, Rector, Marmaduke and Paragould. 
We have a proven track record of performance and results and take pride in our marketing skills and relationships we have built with our customers.
If you're looking to buy or sell your home, commercial property, farm or would like to buy land in Southeast Missouri, call us at 573-888-5373 or come buy and see us at our headquarters in Kennett, MO today!
American Elite Realty of Kennett. We welcome and appreciate all buyers and sellers.
Kennett, Missouri
Kennett, Missouri is a thriving community of 11,000 plus citizens and offers many of the benefits of a larger city and still maintaining its small town charm. It is within driving distance of St. Louis and Memphis allowing the community access to larger city amenities. Kennett is a friendly rural community with good schools, thriving businesses and lower taxes.
American Elite Realty Offices - Phone: 573-888-5373     Location: 309 S. BYP Kennett, MO  63857
Contact American Elite Realty
American Elite Realty Agents
Map to Office
309 South Bypass Kennett, MO 63857